THIS IS AN INDIPENDET REVIEW AFTER 10 DAYS OF OWNING THIS NEW CASIO DIGITAL CAMERA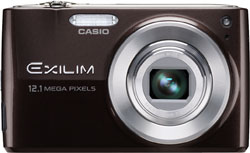 Casio EXILIM Zoom EX-Z400
Casio has unveiled the EXILIM Zoom EX-Z400 digital camera that features Dynamic Photo function technology and a 12.1 megapixel sensor.
Some key features for the Casio EXILIM Zoom EX-Z400:
-12.1 megapixel sensor
-4x optical wide angle zoom lens (28 - 112mm)
-3″ LCD screen
-Image stabilization
-Dynamic Photo function
I have to ask myself first one thing -
Why do I keep buying Casio over and over again?
Well, it's so quick as no other cam, it is easy to use, picture is always good in any mode, video's are easy to make since my Panasonic camcorder is such a headache and therefore I never ever succeeded to get these videos to my PC and upload it to YouTube. Because of a small space in my studio I need a camcorder that records in wide angle, so it can catch the most view of the room as possible. The only afordable cam needs to be one with a simple 28mm lens. At itself no camcorder has it, exept you buy one with special lenses for it.
This is my 9th digital camera. So I do have reasonable experience with how to deal with the pictures and what is expected of a camera to do, what are the essentials for use and of course what the result should be.
You can skip this section......! Go to TEST
My previous owned cameras:
Canon A-10 in 2003; Canon A-80 in 2004; Casio Exilim S-600 in 2006 . That one was so GOOD that I ordered another one for my daughter and one for my son.
I needed one for making footage of my music videos. The room where I record is small so I needed a camera with a wider angle. I purchased Canon Ixus IS 850. That one was a disaster. Movies had a terrible noise - not acceptable for music video) the disfoming wide angle made everyone on the picture look fat. So that one had to go.
So a month after I sold that on on Ebay and bought Casio Exilim S-770 in 2007. That one was perfect and I bought another Exilim S-770 for my friend in South Carolina.
So following the developments I just bought myself for my birthday the new Casio Exilim z-400

Test Casio Exilim Z-400
The picture quality is reasonable. It is even better than expected. I was surprised that there was no MACRO setting for close pictures. The Macro pictures were although reasonable anyway but still not as good as with my previous Casio Exilim S-770.
Lot of professionals would say that the picture would be unusable with higher ISO than 400 and I do agree with that. But since I am not a professional photographer I can live with that idea and try to shoot as much as possible outside, relying on the daylight and not being too difficult about expectations of miscues pictures I usually make on my travelling tours where I have to travel light and easy, able to store as much photos and videos and capture people and places I visit.
Problem making the videos : Standard and HD mode
The immediate problem is now in making a simple video of my piano playing. I made first movies outside in the daylight and they looked wonderfully sharp with good colors. But after I tried a few more videos with my piano students the picture was fine only the sound stopped after 15-50 seconds.??? WHAT THE HECK?
Strange was that the video continued rolling. I see a big problem that videos have a 10 minute limits without being able to give you a warning of how much space there is left on the card.
So I changed a new SDHD card that has the highest speed. Alas, there was no change what so ever.
Here is a video I made and unfortunately it is a complete DISASTER.
The sound is not synchronized with the picture. Just not acceptable for me.
You can view this video here ...
I hope Casio is going to accept this camera going back and send me a decent one that makes good videos in 28mm wide angle together with a normaly expected sound and picture!
Greetings and have fun with buing a new digital camera
PS you can view the old videos made from 2004-2009 on my website and YouTube channel